Social Networks and the Success of SMEs in Media Industries
Sima Sarafi Zanjani

Abdolreza Gholamali

University of Tehran

Dariush Abbasi
Abstract
Purpose- Nowadays, media is an integral part of the daily life of human beings. SMEs in this indus-try use their potentials to succeed. On the other hand, social networks are becoming a key to success for these companies. In this sense, the authors investigate the effect of social networks on the custom-er's alertness and then on the success of these firms.
Design/methodology/approach- To do so, among a hundred and four managers in media enterprises in different levels, forty ones were selected and a questionnaire was distributed among them. In fact a quantitative approach was used to test the research hypotheses.
Findings- The results show that social network has an influence on the success of media SMEs. Moreover, one could conclude that network ties' strength, networking activities, network ties' type, and customer's alertness influence the success of media SMEs.
Research Implications- SMEs in media industries could take advantage of social networks to reach a more effective and efficient level of performance. Indeed, stronger network ties could help them in acting more efficiently. Moreover, customer's alertness could be affected through the characteristics of social networks.
Originality/value- The present study is among the first studies in the country which highlights the realities in the SMEs of media industries in developing countries. However, future research could deal with other aspects of such firms.
Research paper
Reference to this paper should be made as follows: Zanjani, S.S., Gholamali, A., and Abbasi, D. (2013). "Social Networks and the Success of SMEs in Media Industries", Journal of Entrepreneur-ship, Business and Economics, Vol. 1, No. 1/2, pp. 125–139.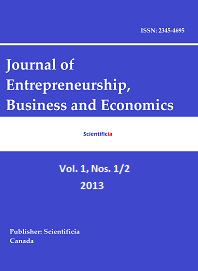 How to Cite
SARAFI ZANJANI, Sima; GHOLAMALI, Abdolreza; ABBASI, Dariush. Social Networks and the Success of SMEs in Media Industries.
Journal of Entrepreneurship, Business and Economics
, [S.l.], v. 1, n. 1/2, p. 125-139, dec. 2013. ISSN 2345-4695. Available at: <
http://www.scientificia.com/index.php/JEBE/article/view/8
>. Date accessed: 26 nov. 2022.