The Role of Finance in the Development of Technology-based SMEs
Evidence from New Zealand
David Deakins

Massey University

David North
Abstract
Purpose- In this paper we discuss an exploratory study that involved face to face, qualitative inter-views with 20 technology-based small firms (TBSFs) and seven qualitative interviews with key informants and funders. The TBSFs were all located in New Zealand (NZ), a small open economy with a limited domestic market, a population of 4.3 million, current GDP per capita of US$32,260 (2010) and arguably an immature and limited financial infrastructure. The central research question for this study was whether TBSFs can raise appropriate finance that allows them to start, develop and remain in NZ?
Design/methodology/approach- An exploratory study has involved a programme of 20 in-depth, face to face qualitative interviews with the founders and chief executives of TBSFs drawn from three contrasting locations in New Zealand and from across different technology-based sectors. A further seven interviews have been conducted with key informants drawn from the three locations.
Findings- As might be expected from theory, there was a heavy reliance on internal funding and bootstrapping methods, although a number of TBSFs had in addition managed to raise additional private capital through their own contacts and networks. All the sample had relied upon internal fund-ing to some extent. However, a total of 13 (65 per cent) either relied totally on internal funding (from the initial start-up) or relied upon a combination of internal funding, bootstrapping and private inves-tors. Context was important with New Zealand being a small open and relatively remote economy when compared to the UK; where the EU provides a significant market for TBSF development. In contrast, NZ TBSFs, of necessity were heavily involved in distant overseas markets.
Research Implications- There was evidence of a distinct finance gap in the external equity market in New Zealand. For amounts below NZ$1m, these could be sought from networks of business angels, even though such sources were limited and restricted. If the funding sought was in the range NZ$1m -$5m; this was likely to fall between the informal and formal venture markets. Associated with this was a distinct preference for relying on internal funding by NZ TBSFs.
Originality/value- This paper provides a contribution by being the first serious study of TBSF devel-opment in New Zealand, specifically focusing on the role of finance. The example of TBSF develop ment in New Zealand's small, open economy is significant and comparisons are drawn with the extent of funding gaps and similar issues in TBSF development from a UK based study. These comparisons enable the findings to be set in context and implications developed.
Research paper
Reference to this paper should be made as follows: Deakins, D., and North, D. (2013). "The Role of Finance in the Development of Technology-based SMEs: Evidence from New Zealand", Journal of Entrepreneurship, Business and Economics, Vol. 1 No. 1/2, pp. 82–100.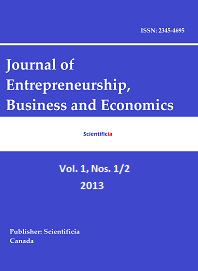 How to Cite
DEAKINS, David; NORTH, David. The Role of Finance in the Development of Technology-based SMEs.
Journal of Entrepreneurship, Business and Economics
, [S.l.], v. 1, n. 1/2, p. 82-100, nov. 2016. ISSN 2345-4695. Available at: <
http://www.scientificia.com/index.php/JEBE/article/view/7
>. Date accessed: 01 oct. 2023.