Strategic Analysis of SMEs' Early Internationalisation Process
Julio Lamas Knapp

Christopher Kronenberg

Kingston University
Abstract
Purpose- This study focuses on the main driving factors influencing the path (i.e. the decision-making process) of SMEs to internationalise and explains reasons for choosing different entry modes as strategy. The paper aims to gain a closer understanding of characteristics and challenges that SMEs experience in the early phase of internationalisation, and how its internationalisation practices – strategies – contribute to their competitiveness.
Design/methodology/approach- A theoretical framework based on a literature review is developed. Empirical results were gained from a qualitative approach based on case studies and cross-case analy-sis of three Tyrolean SMEs.
Findings- Aspects that have been investigated by this study are key motivating drivers to internation-alise and strategies applied. The paper highlights different approaches why and how SMEs undertake the process of internationalisation.
Practical implications- An understanding of drivers and strategies to internationalisation offers en-trepreneurs and small business managers the opportunity to shape and reflect on the development of their company. Outcome of this study reveals the importance of managers in understanding the changes in the business environment and in identifying key internal factors. Results provide practical mentoring to SMEs in similar situations in understanding the nature of the processes of an interna-tional expansion strategy.
Originality/value- Internationalisation strategies are usually viewed in relation to large enterprises. This study considers SMEs in their approach to develop international strategies and market presence.
Research Paper
Reference to this paper should be made as follows: Knapp, J.L, and Kronenberg, C. (2013). "Strate-gic Analysis of SMEs' Early Internationalisation Process", Journal of Entrepreneurship, Business and Economics, Vol. 1 No. 1/2, pp. 35–71.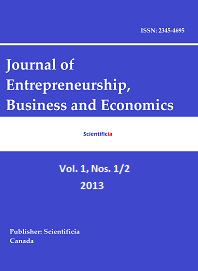 How to Cite
KNAPP, Julio Lamas; KRONENBERG, Christopher. Strategic Analysis of SMEs' Early Internationalisation Process.
Journal of Entrepreneurship, Business and Economics
, [S.l.], v. 1, n. 1/2, p. 35-71, nov. 2016. ISSN 2345-4695. Available at: <
http://www.scientificia.com/index.php/JEBE/article/view/5
>. Date accessed: 26 nov. 2022.