An Entrepreneurial Business Model for Personal Branding: Proposing a Framework
Mehdi Raftari

Shahid Beheshti University

Behrooz Amiri
Abstract
Purpose- Personal branding has become a mature field of research; however, there are many ques-tions to be answered yet. One of the most important questions is that what does a typical entrepre-neurial business model look like?
Design/methodology/approach- To answer the above question, the present paper tries to use meta-analysis approach to making an integrated view of the extant literature. Thus, 25 papers, which were mainly focusing on the topic, was selected and critically reviewed. Finally, a framework is proposed based on Osterwalder's (2004) approach.
Findings- Findings of this research are mainly focused on the characteristics of each dimension in the entrepreneurial business model for personal branding.
Research limitations/implications- Research implications imply that a typical entrepreneurial busi-ness model for personal branding might be helpful for both entrepreneurs as well as policy makers.
Research paper
Reference to this paper should be made as follows: Raftari, M. and Amiri, B. (2014). ―An Entrepre-neurial Business Model for Personal Branding: Proposing a Framework‖, Journal of Entrepreneur-ship, Business and Economics, Vol. 2, No. 2, pp. 121–139.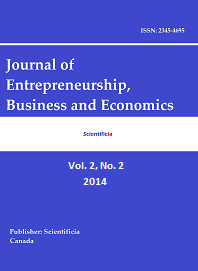 How to Cite
RAFTARI, Mehdi; AMIRI, Behrooz. An Entrepreneurial Business Model for Personal Branding: Proposing a Framework.
Journal of Entrepreneurship, Business and Economics
, [S.l.], v. 2, n. 2, p. 121-139, dec. 2014. ISSN 2345-4695. Available at: <
http://www.scientificia.com/index.php/JEBE/article/view/21
>. Date accessed: 26 nov. 2022.