Entrepreneurial Projects' Risk Factors in Morocco
Laila Kadmiri

Management, Law, Intercultural and Social Mutations Laboratory, Abdelmalek Essaadi University, Morocco

http://orcid.org/0000-0001-9965-4757

Sara Ben Yakoub

Management, Law, Intercultural and Social Mutations Laboratory, Abdelmalek Essaadi University, Morocco

http://orcid.org/0000-0002-8299-9123

Hicham Achelhi

Management, Law, Intercultural and Social Mutations Laboratory, Abdelmalek Essaadi University, Morocco

http://orcid.org/0000-0002-5712-6486
Abstract
The main objective of this paper is to establish a comparative study of the different risk factors encountered by companies in the province of Larache in comparison with the province of Tangier and the province of Tetouan in the Tangier-Tetouan-Al Hoceima region in Morocco. Various factors have many disastrous effects on the start and continuation of entrepreneurial activity, as the entrepreneur is constantly faced with the risk of failure, which has a horrifying effect on entrepreneurship. However, the sense of risk may reflect an entrepreneur's ability to affect his or her decision in the different phases of project creation. This risk can be human, strategic, financial, technical, legal, personal and environmental, etc. The creation of projects is characterized by risk-taking, and much research has been conducted to understand briefly the risks that a company may face and their factors. The results show that the business environment is favourable in large provinces characterized by the high number of new businesses founded each year, in contrast to the small provinces the life cycle. Thus, the study showed that the business environment is favourable and motivating, the more the entrepreneur would be enthusiastic. The human, financial, and legal success factors for these companies are nearly identical in all three regions. Failure causes include technical, technological, and organizational issues. There are several risk factors (related to the dedicated training, the competence and experience of the entrepreneur, the organization, the environment, the financial means), and the more complex the market environment, these factors become critical. Our interviewers have also added some recommendations to develop the business of our region and minimize the delicate of these factors, such as: the state intervention, through economic incentive policies to encourage young project leaders, include funding for new projects, encouraging young people to take out loans, take advantage of advanced training through the INTILAKA program, take advantage of the State's guarantee for young entrepreneur profiles, the development of incubators to assist future entrepreneurs in the realization of their ideas by exchanging insights, advice, and logistical resources, creating of project leaders' resources, assistance, and follow-up units, developing entrepreneurial spirit by training courses, and integrating universities' roles by preparation for the benefit of young project managers.
Research paper
Keywords: Entrepreneurial project; Risk factors; Comparative study; Provinces of Morocco
Reference to this paper should be made as follows: Kadmiri, L., Ben Yakoub, S., & Achelhi, H. (2021). Entrepreneurial Projects' Risk Factors in Morocco. Journal of Entrepreneurship, Business and Economics, 9(1), 202–229.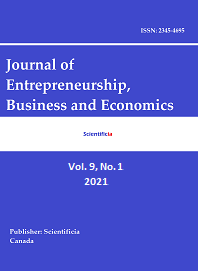 How to Cite
KADMIRI, Laila; BEN YAKOUB, Sara; ACHELHI, Hicham. Entrepreneurial Projects' Risk Factors in Morocco.
Journal of Entrepreneurship, Business and Economics
, [S.l.], v. 9, n. 1, p. 202-229, may 2021. ISSN 2345-4695. Available at: <
http://www.scientificia.com/index.php/JEBE/article/view/150
>. Date accessed: 01 oct. 2023.
This work is licensed under a Creative Commons Attribution-NonCommercial 4.0 International License.