Government Intervention in Free Markets: The Shipping Industry
Nima Roshanaei

Cass Business School, City University, United Kingdom

Narges Khoramshahi

Entrepreneurship Faculty, University of Tehran, Iran
Abstract
Over the last century the liberalization of national economies and the induction of free markets have fueled seaborne trade as a pillar for economic growth and international trade. But the prosperity that maritime shipping and seaborne trade has generated needs to be secured within the context of globalization; and so the governments will play a crucial part in promoting and fostering its sustainability. Some argue that governments have a moral and legal obligation to intervene and safeguard sustainable practices. Some on the other hand take that governments' role should be a mere promoter and capacity developer for the greater good through protecting the process of economic prosperity. The real life models show that the degree of government intervention is influenced by country specific environments and may vary according to different economic structures ranging from directive intervention by actively advising industrial policy and investing in selected areas of interest, to facilitative intervention by creating positive investment conditions and provision of public capacity for industries to foster and grow. This paper will make a brief overview on various models examining the degrees of government intervention and its impact on economic prosperity with a particular focus on maritime shipping and seaborne trade. We shall conduct a review of neoliberalism vs. statism and their respect ramification on maritime trade, and will point out to novel third way as a balanced approach that can foster best outcome for our certain study area, i.e. the shipping industry. We are of the opinion that this literature analysis not only provides an overview of the current status of knowledge within the domain of free markets and government intervention, but also serves as a salient guideline for future research directions.
Research paper
Keywords: Government intervention; Free markets; Maritime shipping industry
 Reference to this paper should be made as follows: Roshanaei, N., & Khoramshahi, N. (2020). Government Intervention in Free Markets: The Shipping Industry, Journal of Entrepreneurship, Business and Economics, 8(1), 180–203.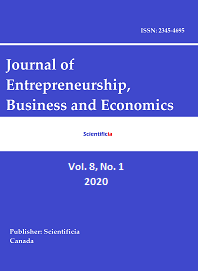 How to Cite
ROSHANAEI, Nima; KHORAMSHAHI, Narges. Government Intervention in Free Markets: The Shipping Industry.
Journal of Entrepreneurship, Business and Economics
, [S.l.], v. 8, n. 1, p. 180-203, july 2020. ISSN 2345-4695. Available at: <
http://www.scientificia.com/index.php/JEBE/article/view/134
>. Date accessed: 28 nov. 2023.
This work is licensed under a Creative Commons Attribution-NonCommercial 4.0 International License.