Exploring Entrepreneurial Framework Conditions in Libya: A National Experts' Perspective
Ali Omar

University of Benghazi, Benghazi, Libya

Fathi Ali

Salma Imhamed
Abstract
In light of studying the entrepreneurial ecosystem in Libya, this paper aims at exploring entrepreneurial framework conditions (EFCs) that can play a role in the development of entrepreneurship and enhancement of entrepreneurial activities. EFCs that investigated include: entrepreneurial finance, government policy, government entrepreneurship programmes, entrepreneurship education and training, R&D transfer, commercial and legal infrastructure, entry regulation, physical infrastructure, and cultural and social norms. Relevant topics to entrepreneurship were also investigated. Amongst them are: entrepreneurship and youth, wellbeing, interest in innovation, attention to high growth, women's support to start-up, intellectual property rights, entrepreneur social image, and abilities, knowledge and opportunities to start-up. The methodology followed is based on the Global Entrepreneurship Monitor's methodology. The main source of data was national expert's survey, through conducting interviews with 36 national experts in fields related to entrepreneurship. This is in order to having their perspectives on relevant EFCs and others. This paper provides one of the first entrepreneurship and innovation research on Libya. It illustrates, in details, figures and perceptions on EFCs in a business environment of post-conflict country. It has been concluded that the most unfavourable conditions for entrepreneurial activity in Libya are entrepreneurship education and training, government programmes, and R&D transfer. Whereas the most favourable ones are physical infrastructure, internal market-dynamic and commercial infrastructure, respectively. Overall, this paper offered one glimpse into nature of EFCs in Libya that may help researchers, practitioners and policy-makers understand possible improvement opportunities for EFCs, with clarifications on challenges that Libya may face to improve EFCs.
Research paper
Keywords: Entrepreneurship; Libya; Innovation; Entrepreneurial Framework Conditions; and Entrepreneurial Ecosystem
Reference to this paper should be made as follows: Omar, A., Ali, F., & Imhamed, S. (2020). Exploring Entrepreneurial Framework Conditions in Libya: A National Experts' Perspective, Journal of Entrepreneurship, Business and Economics, 8(1), 15–53.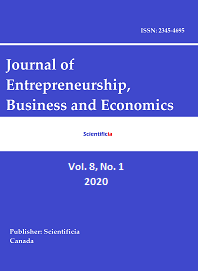 How to Cite
OMAR, Ali; ALI, Fathi; IMHAMED, Salma. Exploring Entrepreneurial Framework Conditions in Libya: A National Experts' Perspective.
Journal of Entrepreneurship, Business and Economics
, [S.l.], v. 8, n. 1, p. 15-53, jan. 2020. ISSN 2345-4695. Available at: <
http://www.scientificia.com/index.php/JEBE/article/view/127
>. Date accessed: 06 dec. 2022.
This work is licensed under a Creative Commons Attribution-NonCommercial 4.0 International License.